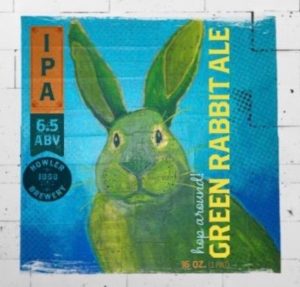 In the spring of 2017, a local craft beer brewer named Jonni Benson tracked me down and asked if he could use the green-colored portrait I did of my sister's gigantic bunny rabbit for his new IPA, Green Rabbit Ale. My babbling, overly-excited response can be summed up as one big "YES! Yes you CAN!!!!".
Green Rabbit has been receiving great reviews on Untappd.com, where there's also a bunch of fun photos people have posted of themselves enjoying it. A friend who procured a can had this to say about it: "Green Rabbit IPA. Very nice. Little bit of pine on the nose. West Coast style bitterness on the back end. Quite drinkable! I like it. Even better, the label is awesome!". Thanks, Peter F. of Marblehead, MA!
Scroll down for a list of stores in the Western Massachusetts area currently carrying Green Rabbit Ale (*I highly recommend calling ahead to make sure they have it in stock. If they don't, nearly all of these stores can special order it for you!). We are working hard at making Green Rabbit Ale available to stores throughout Massachusetts, and I'll post this information as soon as it's available!
Green Rabbit Ale has a 6.5% APV and is sold in 4-pack 16 oz cans. And yes…..it's "hoppy."
Amherst: Amherst Wines & Spirits; Cousin's Food Market; R&P Package Store
Belchertown: Cold Spring Wine & Spirits
Brimfield: Brimfield Market (413.245.6281)
Chicopee: Liquors 44; White Eagle Wines & Liquors
East Longmeadow: Lighthouse Liquors
Easthampton: Old Colony Package Store
Great Barrington: Domaney's Liquors & Fine Wines; Guido's Fresh Marketplace; Plaza Package Store
Greenfield: Ryan & Casey Liquors
Leeds: Leeds Package Store
Ludlow: Pop 'n Kork
Monson: A1 Package Market; Adams Hometown Market
Montague: Montague Mini Mart
Northampton: River Valley Market; Pop's Package Store
Palmer: Luke's Beer & Wine Convenience
Springfield: Johnny Mac's Liquors
Ware: Bruso's Liquor Mart
West Springfield: Table & Vine
West Stockbridge: Queensboro Wine & Spirits
Westfield: Westfield Spirit Shop
Williamsburg: Main Street Package Store